Sushi at a Burger place?? Say I DO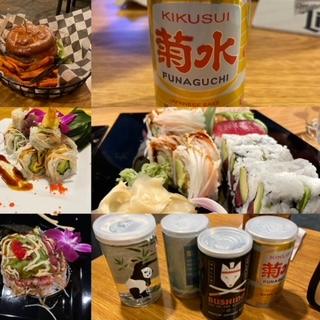 Sushi at a burger place? The only thing you should be afraid of is not trying it!
We all eat with our eyes.
I have been watching some beautiful sushi rolls roll across my Facebook and Instagram feeds coming from JD's Burger Company for a few weeks, and the entire time I was wondering…but does it taste good?
I then went to their website to investigate even further, and they have an incredibly comprehensive list of sushi menu items, but really how good can sushi at a burger place be?
They make over the top outstanding burgers, and I have eaten there several times and ate the item in the title…it's what you do at a burger place.
I have been dying for dining in sushi for a long time during covid, and my husband's comfort level with dining in isn't strong, but we have been working our tail off with Lemonadio and needed a treat.
We are both sushi addicts and are always seeking to find new favorites.
There is also a level of comfort that goes along with people that like sushi- a trust.
...how fresh is the fish and veg, the rice has to be on point, sauces, presentation, and a whole ritual for hubby and me down to the sake. We have specific "things."
I imagine we are not alone.
It was a Sunday, and our usual "go-to" is take-out only. A new favorite of ours is not open on Sunday, so I said, how adventurous are we tonight?
Hubby and I had just finished helping a friend move, our basement flooded, we cleaned that out too along with the help of Ella- my surrogate child roommate and Dave from 13 Folds lemonadio's new night program.
I said, " I saw JD's burger is now serving sushi. Do we want to try it?
Dave, "sushi at a burger place?"
Ella, "I am down for a burger. I don't do sushi."
So we did, and boy, glad we did,
Not only was the restaurant immaculately clean and organized—plenty of distance and table space. I love the long bench so that you can spread out…sushi requires space to see it all and elbow room for my chopsticks.
They had a great variety of cold sakes in a can I had never seen before.
Our waitress was patient and kind with our thousands of questions.
Something in my head clicked while taking our experience I desperately wanted and needed; everyone at the table was happy and got what they were looking for, outstanding food, and what they craved.
I had been needing dine in sushi and what I got was an epic selection of some of the best sushi I have had on the cape, thanks to professional sushi chefs Anson Carson and Peter.
This sushi is so good I have been telling everyone that I know about my dinner.
I did not try the adventurous JD's House Roll that combines burger and sushi into one, but I did try their Triple-A roll, which I have never seen anywhere Apple, Avocado, Asparagus, and mango sauce!
My favorite was "The Corso."
Ella ate a basic burger and sweet potato fries and was so happy about all of it!
The irony is a funny thing. I recently was told by a former coworker that "when you go to a restaurant, you expect certain things," talking about a music format analogy referencing you can't be all things to all people.
I disagree!
When you go to a restaurant, you expect food—the food you can't make at home.
Sushi, you want to be dazzled by something unique, and JD's hasn't missed one of these "expectations" yet!
Oh, and did I mention the Golf Simulator available for rent in the newly expanded restaurant's private room??
We will have to have a podcast with the owners because their story is a good one filled with unexpected events and tasty surprises and a love for their town of Sandwich.
Holiday Sushi platters available, so get to ordering and saying Yes, Sushi at a burger joint- JD's Burger-I have thought about it every day this week.
Back