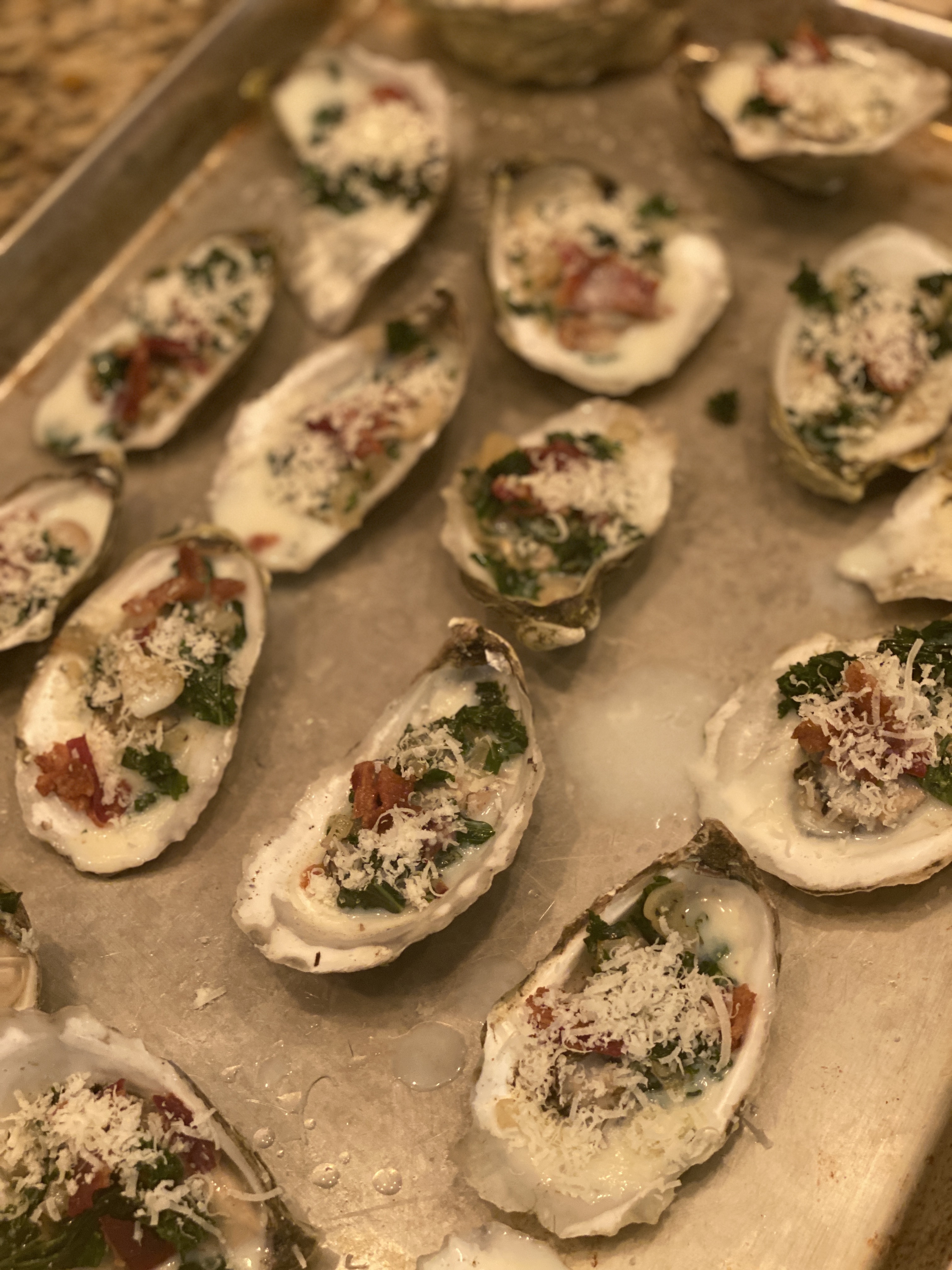 Shopping List
Three dozen Oysters
Milk
butter
bacon
1 yellow onion
Three cloves of garlic
parmesan cheese
One lemon or essential oil or your favorite citrus
Kale
old bay
flour
salt, pepper
Start by boiling about 4cups of water in a pot for your oysters
add old bay and some lemon
Put bacon on a tray and cook in the broiler
Remove bacon and save some grease
Once boiling add about ten leaves of kale and blanch
Remove kale and add Oysters to boiling water
Boil for about 5 min
While Oysters are starting chop blanched Kale leaves and add to a saute pan with diced onion and slivered garlic with a bit of bacon grease and a few pats of butter.
Pour Oyster water out and cool oysters
Shuck them and squeeze lemon over the oyster
Use the deep well shell to add saute mixture on top of oyster and discard the top shell
Grate Parmasean of the top and crumble bacon on top of each oyster
(I also made a roux with one cup milk and two tbs of butter and threw a parmesan rind into spoon a bit of broth back into oyster)
Broil for 3 min to make a cheese crust over the oyster
Cook time is short, but prep work is about 30 min, well worth it.
Make what you have with What you have.
After the 4th of July, we had a few dozen Oyster leftovers from our friend Dave who ALWAYS over orders seafood, and we have no problem with it! I always get to chef up another surprise snack the day after some friend time.
I was thinking Rockafeller but with what I had in the house. I don't shuck oysters all that well, so I figured I could parboil them to get at the oysters in the shell with a bit of ease.
The results came out fabulous, especially since I have a pretty good crop of onions and kale in the garden.
Back