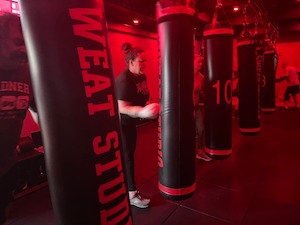 I started to move my body and eat like a human again, I know I have done this a thousand times, but this time felt different. I am sick of living in this skin sac, and I have been waiting for the overwhelming feeling of disgust I usually get to wash over me and motivate me. That day finally arrived eight years later. I received an inbox on Facebook from Jenny Mincone. I have worked with her in the past on an event and loved the energy in her gym. I never did get to work out with her because I injured my foot.
She was happy to see that I was involved with a recent Falmouth Charity Event that raised 30k for Tommy's place and then asked me the loaded question. "What are you doing for your fitness?" I wasn't afraid this time. I had been dusting off the Peloton and working up to longer times, babying the many injuries that have plagued me from my go-hard or go-home mentality over the years.
I have been making better choices; granted, it has only been eight days. The amount of crap I would have ingested, I thought for sure, with the classes and the water and the vitamins and the healthy choices. I would be down ten, maybe 12 lbs, so when I stood on that scale today, I almost croaked- 1 lb! One freaking pound, how could this even be? I put 110% into my workout, saying, " Well, maybe next week will be better. I planned my food for the week, planned my activities, and prepared for another week. If it is another pound, then so be it; the scale is going in the other direction, and I can see a difference in my body.
I am heftily typing this out right now, so when I get pissed next week during scale time; I can remember to shut my frustration down and keep working.
.
.
.
#workingout #sweatstudios #falmouth #motivatedmama #lemonadio #lemonadioradio #stephanieviva #workit
Back