Finger Lakes; NY State has so much to offer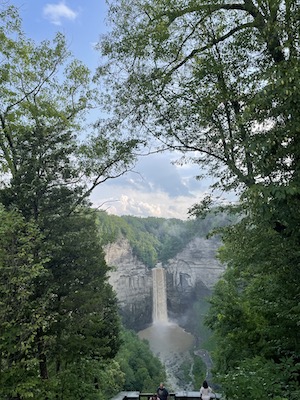 What do you know about the finger lakes?
Before this trip, I just knew about them from an SNL skit with Kristen Wing and her baby hands.
Now I am planning my return.
My hubby always misses out on my travel because he has a job that requires him to be on location all the time. I am a bit of a digital nomad, so I can pack a bag, grab my gear, and head out on an adventure.
He requested a last-minute getaway and wanted to use our rail pass. Amtrak just ended their summer rail pass sale for $299. You get ten stops wherever you wish to go, but the only catch is that you have to use the pass within a month. We have a wedding in Florida on Labor Day weekend; we plan on using most of the legs to get to and from slowly, so this option didn't work for us this time.
I did see a summer sale on the Lakeshore Limited Line advertising $9 Fares…
Yes, you saw that right- Lakeshore Limited rides you from Boston to Chicago if you want.
During the pandemic, my friends Lori and Nancy retired and relocated to Fulton, which isn't far from Syracuse. I wanted to see them, but now a last-minute hey, I am crashing with my family, so I popped over for lunch and caught our session, which was fabulous.
I thought the finger lakes would make for a nice 4- day getaway with my hubby and son. I could work in the morning, and we could plot our adventures for the afternoons.
Waterfalls and Wineries: What was not to like?
We got so much more than we thought.
We arrived late at Lakeshore Limited and grabbed a cheap hotel near the airport for a fast rental car pick up from the airport.
We headed to the girl's house and had a fabulous afternoon catching up and grilling- they used to be lunch ladies back in their day, and they can't help but feed you when you visit.
Around 3, we headed from Fulton to our first destination Seneca Falls, home of the Women's Rights National Historical Park. What a beautiful small town with lots of historical buildings and an old-time feel. There was a farmers market in the center of the city, but I was really into exploring; after all, we only had four days, and I wanted to cover some ground.
We set out to find some waterfalls and hit Ithaca first. We passed winery after winery, farm after farm. We saw the beautiful Cornell Campus and deer just chilling pretty much everywhere.
We were getting pretty hungry and wanted to head closer to our hotel but not before squeezing a quick stop at Taughannock Falls State Park- majestic views and minimal walking-my kind of natural wonder.
We grabbed dinner at local Italian joint Ciccones in Waterloo, with the fastest service, a great menu, and yummy food.
I finished the day with an Ice Cream from Peppy's and headed to our hotel for a swim and then bed.
I was beyond excited to get out to a couple of wineries the next day, and I knew we would be busy, so we hopped in the car to relocate to our next destination Geneva after the show.
We stopped at a winery for a tasting and let the little guy play with our cameras in the garden of a sea of grapes while did a tasting; we popped over to a brewery that had a maze of hops, an ax-throwing game for kids, and hammocks in the trees. We packed ourselves a picnic, so this was such a fabulous treat.
Next, we headed to Watkins Glen for a bit of a hike, but let me tell you, the views and the falls past the suspension bridge were worth every step in the 90-degree heat. With the water and the breeze from the falls, that was the best way to enjoy the mile up and back before we readied ourselves for our horseback ride at Painted Bar Stables.
The running joke before we left was, "are we too fat to ride a horse."
The stable clearly states that they will not let anyone over 250 pounds ride their horse; the hubby is close, and we had to do a scale check. He has been hitting the water and salads pretty hard this week in preparation to keep himself away from that line, but he did.
What a fantastic outing it was!
Coti was a little nervous, but he listened to the 20 minutes of instruction from our guide Erica and felt a bit more confident. He had his first trail ride through the woods overs streams, and up and down hills in the woods, and he was fantastic! He is dying to ride again already- we created a monster!!! We were exhausted after that ride and headed to clean up and eat. We grabbed Mexican near our hotel, and they had pitchers of margaritas because hubby was confident he deserved one after making sure to keep under the "too fat to ride a horse line" all week!
Man, did we sleep well!
The next day, everyone was a bit sore from the flurry of activity, so we were pretty lazy after I worked. We ventured to Auburn and saw Harriet Tubman's home and her place of burial at Ft. Hill. We headed home to nap, and then Cliff and I checked out some breweries by our hotel, 4 of them within a 10-mile radius. I love that the farm-to-table situation is pretty much every restaurant in the Finger Lakes. It was busy but no traffic. Places were full but not unmanageable; this was a wonderful getaway. When we arrived at the train station, we realized there was a 5-hour delay; we didn't panic; we just headed to the mall, not just any mall. Destiny mall is like nothing I have ever seen! It is a city within a city of every shop and activity you can imagine, and we only explored a small section. We took the boy to Dave and Buster's to thank him for being bored at wineries and then grabbed lettuce wraps at the cheesecake factory. This mall had a playground that you can watch your kids on camera. At the same time, you can head over to Margaritaville or do some shopping. There is a ropes course above your head, two playlands for little people trampolines, an escape room, and even a "be a DJ" shop with several sets of decks and crates of records for you to try your hand at scratching and mixing with a live studio audience! Not to mention the world-famous Carousel in the food Court; you could get lost for days in there. We were so thankful that it was only half a mile from the bus and train station- what a nice distraction from an unfortunate delay occurrence.
We are already planning another trip to the finger lakes and have even looked at investment property; it's always fun to dream, and you never know what will come available, and I have made its mission to "SAY YES" this year!
.
.
.
#exploreny #WTBIP #travelhacking #trainspotting #railway #newyork #fingerlakes #waterfalls #wine #brewery #farmlife
Back